Uploading Shareholder Information Using a CSV
Uploading shareholder information using a CSV can only be done during the company registration process on the shares page. 
Adding new companies can only be done through the myStake web app.
The company secretary is able to register a company on myStake once they complete the account registration process. 
Note that multiple CSVs can be uploaded on the shares page. 
Note that only ordinary shares can be digitised, unless you have unlocked the share classes upgrade.
Note that CSVs should only be used when attempting to digitising shares for a large number of shareholders. 
Companies that have many shareholders may prefer to import their shareholder information to myStake using a spreadsheet. At the bottom of the shares page of the myStake company registration process, there is an option to upload a CSV. Once a CSV has been uploaded, the extracted shareholder information will be used to digitise shares for each shareholder. This data will be shown under Share Allocation at the top of the page. We have divided shareholders into the four categories listed below to simplify the import process.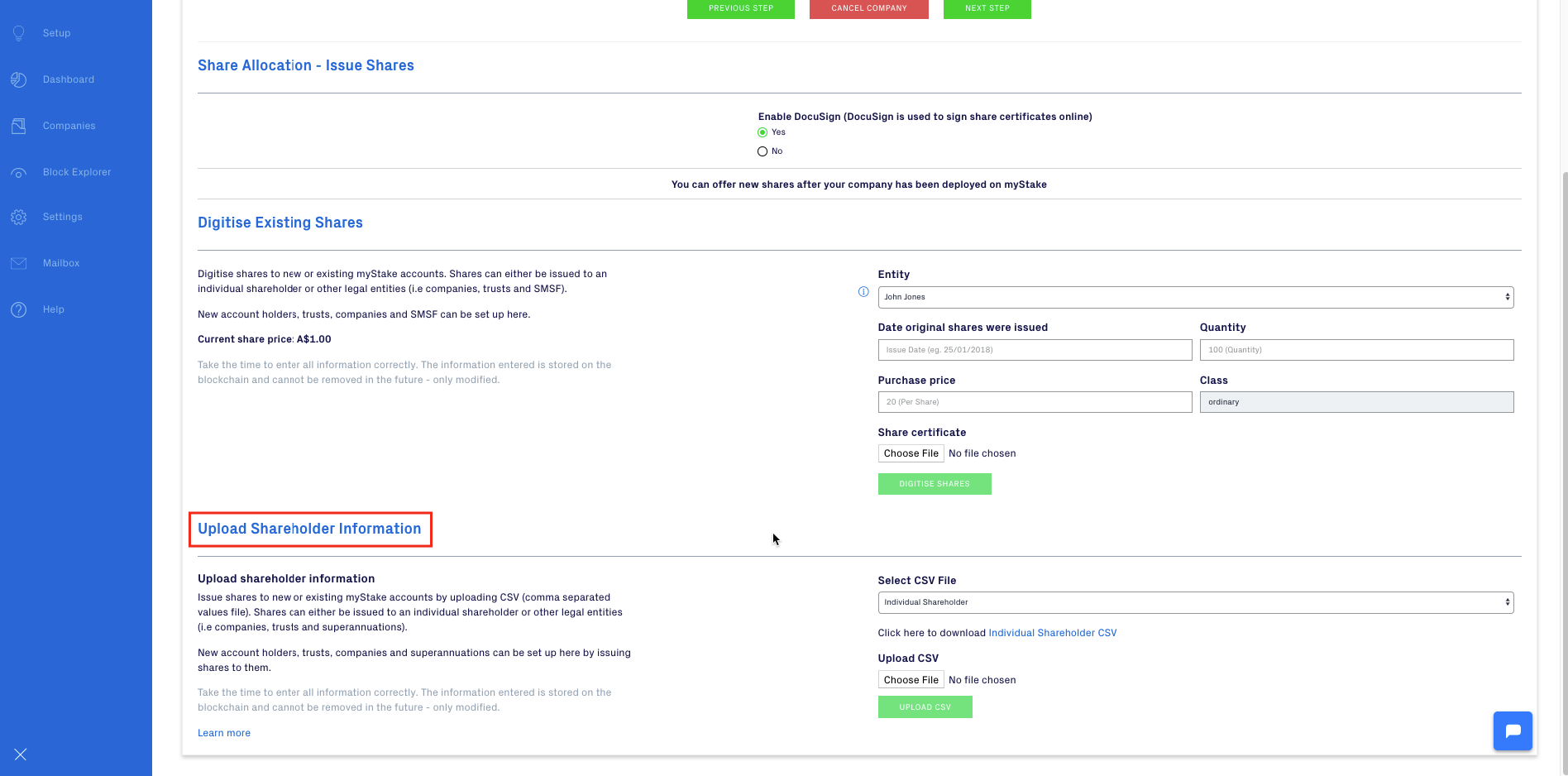 Uploading a CSV for Individual Shareholders  
When you arrive at the Shares section of the myStake company registration process, scroll down to Upload Shareholder Information.
Click the Select CSV File drop-down list and select the option Individual Shareholder.
Click the Individual Shareholder CSV download link that can be found below the drop-down list. 
Open the downloaded file.


Once you have included the details of all of your company's individual shareholders and their holdings, save the file.

Click the Choose File button and attach the CSV that has your company's individual shareholder information
Click Upload CSV  

Uploading a CSV for Company Shareholders  
When you arrive at the Shares section of the myStake company registration process, scroll down to Upload Shareholder Information.
Click the Select CSV File drop-down list and select the option Company Shareholder.
Click the Company Shareholder CSV download link that can be found below the drop-down list. 
Open the downloaded file.


Once you have included the details of all of your company's corporate shareholders and their holdings, save the file.

Click the Choose File button and attach the CSV that has your company's corporate shareholder information
Click Upload CSV 
Uploading a CSV for Trust Shareholders  
When you arrive at the Shares section of the myStake company registration process, scroll down to Upload Shareholder Information.
Click the Select CSV File drop-down list and select the option Trust Shareholder.
Click the Trust Shareholder CSV download link that can be found below the drop-down list. 
Open the downloaded file.


You are able to digitise shares to trusts with either individual trustees or corporate trustees.
To digitise shares to a trust with an individual as the trustee you will need to fill in the following fields:

Quantity
Date original shares were issued
Trust name 
Trustee email address
Purchase price
Share class

To digitise shares to a trust with a company as the trustee you will need to fill in the following fields:

Quantity
Date original shares were issued
Trust name
Company secretary email
Company name
Company ACN
Purchase price
Share class

Once you have included the details of all of your company's trust shareholders and their holdings, save the file.

Click the Choose File button and attach the CSV that has your company's trust shareholder information
Click Upload CSV 
Uploading a CSV for SMSF Shareholders  
When you arrive at the Shares section of the myStake company registration process, scroll down to Upload Shareholder Information.
Click the Select CSV File drop-down list and select the option SMSF Shareholder.
Click the SMSF Shareholder CSV download link that can be found below the drop-down list. 
Open the downloaded file.


You are able to digitise shares to SMSFs with either individual trustees or corporate trustees.
To digitise shares to a SMSF with an individual as the trustee you will need to fill in the following fields:

Quantity
Date original shares were issued
SMSF name 
SMSF email address
Purchase price
Share class

To digitise shares to a SMSF with a company as the trustee you will need to fill in the following fields:

Quantity
Date original shares were issued
SMSF name
Company secretary email
Company name
Company ACN
Purchase price
Share class

Once you have included the details of all of your company's SMSF shareholders and their holdings, save the file.

Click the Choose File button and attach the CSV that has your company's trust shareholder information
Click Upload CSV
---
---